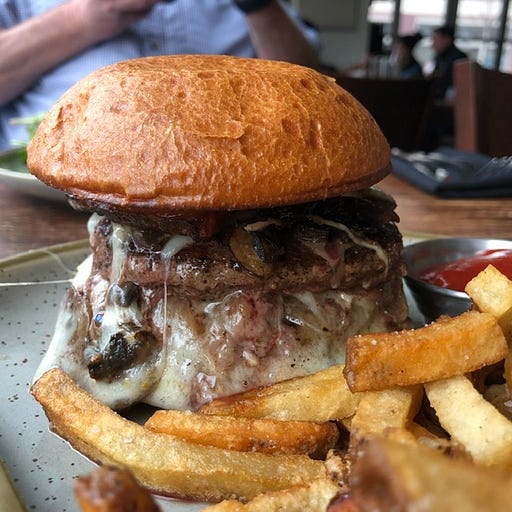 Mar 22 • 25M
Good Morning, Friends...
It's All About Where I Ate
This podcast is mostly about food
TODAY: In the Newsletter (May Contain Adult Language) - GMF • ON THE PODCAST feat. What'd Ya Eat? • THE RECOMMEND
---
GOOD MORING, FRIENDS…
I hope you're all having a great week so far, enjoying the weather, getting out there, doing things, eating things, eating more tings. I have eaten a lot of things, and plan to continue doing so for the foreseeable future. Today's newsletter and podcast are all about the things ate recently. Well, some of the things.
---
ON THE PODCAST
Note: My podcasts are edited into an hour long show that airs on WPVM 103.7fm every Friday at 5pm. On today's podcast, I refer to other segments of the full-length radio show. Sorry if that's confusing.
It me! I have been enjoying recording my solo-segments, I hope you enjoy listening to them. This time I did an extended segment of "Where'd ya Eat?," and talked about the following....
ABOVE: Amazing sausage plate from Buxton Hall BBQ, featuring Vandele Farms sausage.
ABOVE: My Italian sub from Twisted Laurel Downtown Asheville tasted better than it looks in the picture, but I had lunch-envy for Paddy's smash burger. (BELOW)
BELOW: The burger from Blackbird Restaurant was delicious, and very, very…. very very filling. Cheese, mushrooms, double patty, grilled bun, fat, grease, yum. I ate it all, and was fit to pop.
BELOW: I had a very lovely little piece of quiche at Session Cafe, that came with its own wee tiny side-salad, and it was the perfect amount of food.
---
THE RECOMMEND
I was invited to do a tasting of the new brunch menu at Holeman & Finch. I recommend the whole experience, and the dishes I tried, which are shown below. You can see more, bigger pictures on my Facebook Page, and I'll probably do a more comprehensive review in an upcoming podcast / radio show, but in the meantime, take a look at their menu on line, and consider popping in yourself! The do it every Saturday & Sunday.
BELOW (clockwise from upper left): The oyster bar, eggs Benedict, pork chop schnitzel, shrimp & grits.
If you know of a great brunch that I should try, please recommend it to me!
---
— end —